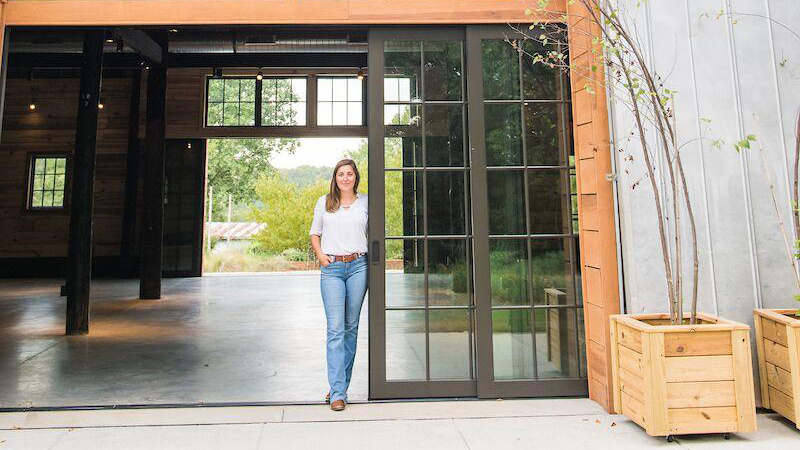 Gooood day, TSG friends! Hope your phasing well into Phase 2 (pun #1) and it's getting off to a safe and great start. Please welcome Catherine Dooley from our beloved North Corner Haven.  Catherine is the (we're saying it) expert in all things sustainable, field-to-table farming, and also how to throw one helluva shindig. Which, in turn, I did for my own wedding at NCH.  
Haha that's quite an intro, definitely making me out to be the goat (CD Pun #1!) But seriously, I'm learning more about all of the above by the day, and loving it. 
 
Okay, Dooley....First question is always a Doo-zy (pun #2!). On a scale of 1 to 10....how hard did I bring the heat on the microphone during the reception? 
 
I'd say the heat was brung! Such a fun night and heck of a sight to see the groom as the front-man at his own wedding. Double fisting with the Eagle Rare no less, have you been able to drink it since? 
That's a fair and balanced answer. No offense taken. My mom told me I sounded like an angel and I'm taking that to the bank.
Moving along, give us the skinny on NCH?
Happy to!
In a nutshell, my family has had the farm for fifty years - it's about 45 minutes South of the Shop in Lancaster County, SC. We love this place so much, and as we watched Charlotte grow into such a sprawling city, we knew we had something special to share right outside of town. 
Sooo, over the past 4 years, we came together and hatched (CD Pun #2! Too far?) a plan to open it up for others to experience, whether it be a corporate retreat, incredible wedding celebration or an afternoon at the Five Stand, all with a working farm at its core. 
Today, we're actively farming about 110 acres of the property, raising goats, pigs, cows, keeping bees (36 hives and counting!) and growing produce in our market garden. 
We LOVE food. I mean love it. We love it like a fat kid loves....wait, like a pig in....wait.  You have pigs?
Yes! The 300lb kind no less - dozens!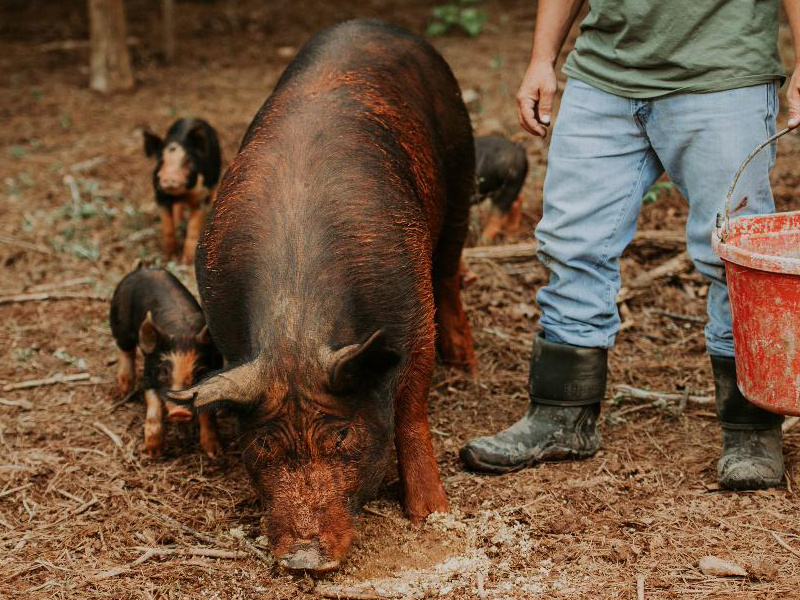 Tell us about your approach to farming practices - your farming "credo" if you will?
In our opinion, there is too much mystery around where food comes from these days. We are humbled by the opportunity to grow food on the land in a regenerative way and serve it to our guests onsite and to the greater Charlotte community. 
For example, we have mobile chicken coops (see picture). The chickens rotate on pasture behind the cows to build soil. They lay their eggs, we collect and wash the eggs, pack them and deliver them weekly. Crazy concept right? 
Trying to do our part.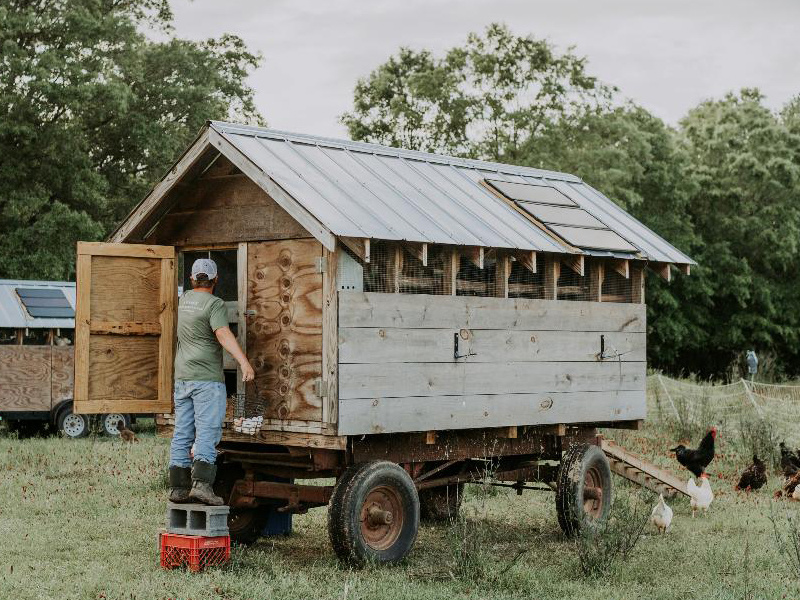 Rumor has it you're making home deliveries as well?
Yes! While our greens are delivered to Reids on Thursdays, we sell our Pasture Raised Meats and Eggs online with home delivery each week. My favorite cuts include our Bone-In Pork Chops and the Jalapeño Cheddar Grilling Sausage. Crowd favorites also include our ground beef, steaks, maple breakfast sausage and the classic b - o - l - o - g - n - a. 

First hand experience talking here: You have taken this model and now have an incredible, perfect and self-sustainable venue for events. How are you reacting to the limits placed on gatherings and the like?
Honestly, no one saw this coming - right? We've had to make adjustments like everyone else but feel fortunate to have fresh air and plenty of space on our side. We are open (!) and mindfully crafting experiences for our guests to look forward to. If anything, it's highlighted the need to get outside and reconnect. 
One fun offering that we just launched is our Cherished Weddings Packages. Designed for thoughtful gathering, we're giving couples the opportunity to celebrate today on a smaller scale and collaborating with some talented photography and floral partners to make it happen in a turn-key way. 
Genius. We're excited to do our part, as well, and offer a 20% discount to any of your grooms on all groomsmen gifts and custom suiting for their big day.
How generous! What an awesome deal - and know our grooms will love it. They'll take that extra cash straight to the piggy bank (CD Pun #3 - not my best)!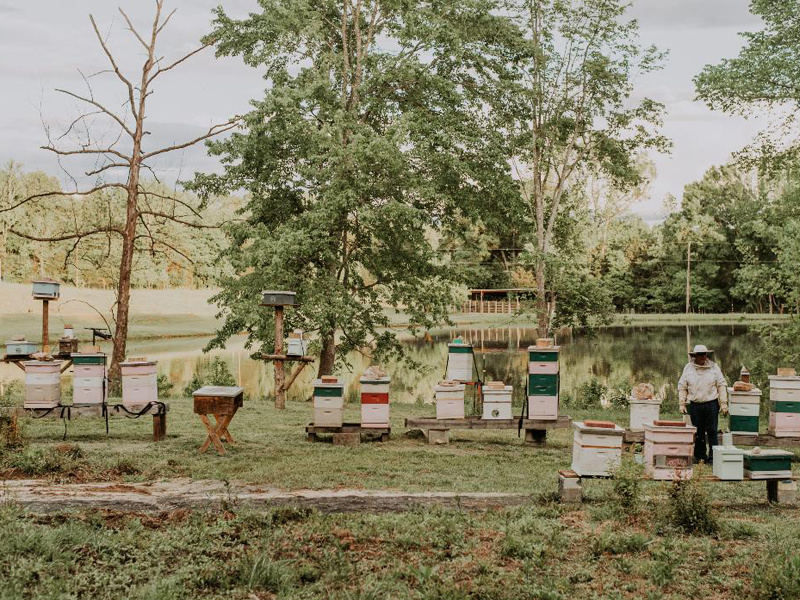 We always end with a rapid fire Q&A. Ready? Get set, go.
The chicken or the steak?
Turf & Turf - a girl can't choose.

Favorite thing on Netflix right now?
I'm trying really hard not to say Outer Banks. 
Favorite dish using farm ingredients only?
Breakfast, duh! The most important meal of the day.
Nothing better than our farm eggs, sausage and some fresh greens on the side. 
Best season on the Farm. 
If I had to pick, Spring is especially magical with the forest coming back to life -- but really, you can't beat a fire pit under the stars. No bad days out here. 
 
Biggest fish you've caught in the pond?
This bass on Sunday - ok I didn't catch it but I was there... (see picture)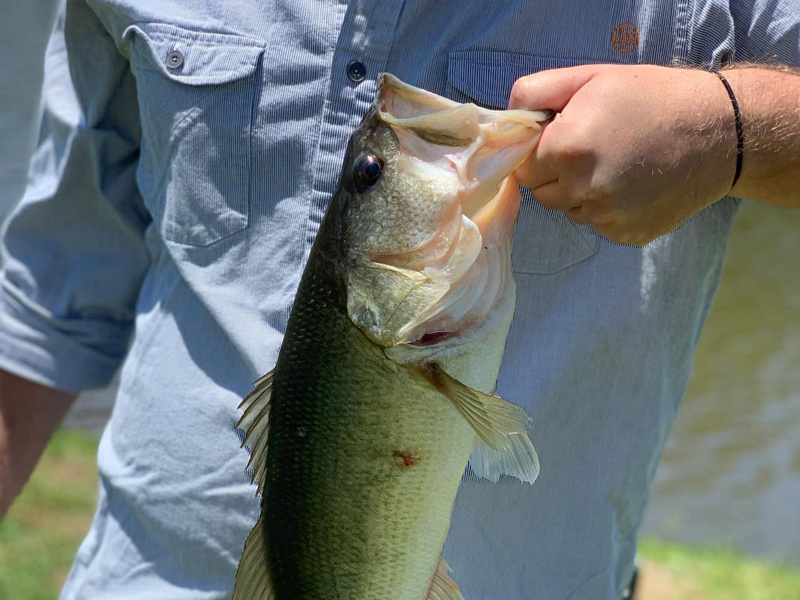 May I fish the pond again?
Absolutely, come down anytime.
For more information about North Corner Haven, their event packages and the farm, please visit www.northcornerhaven.com

Photos by: Connection Photo & Jamey Price