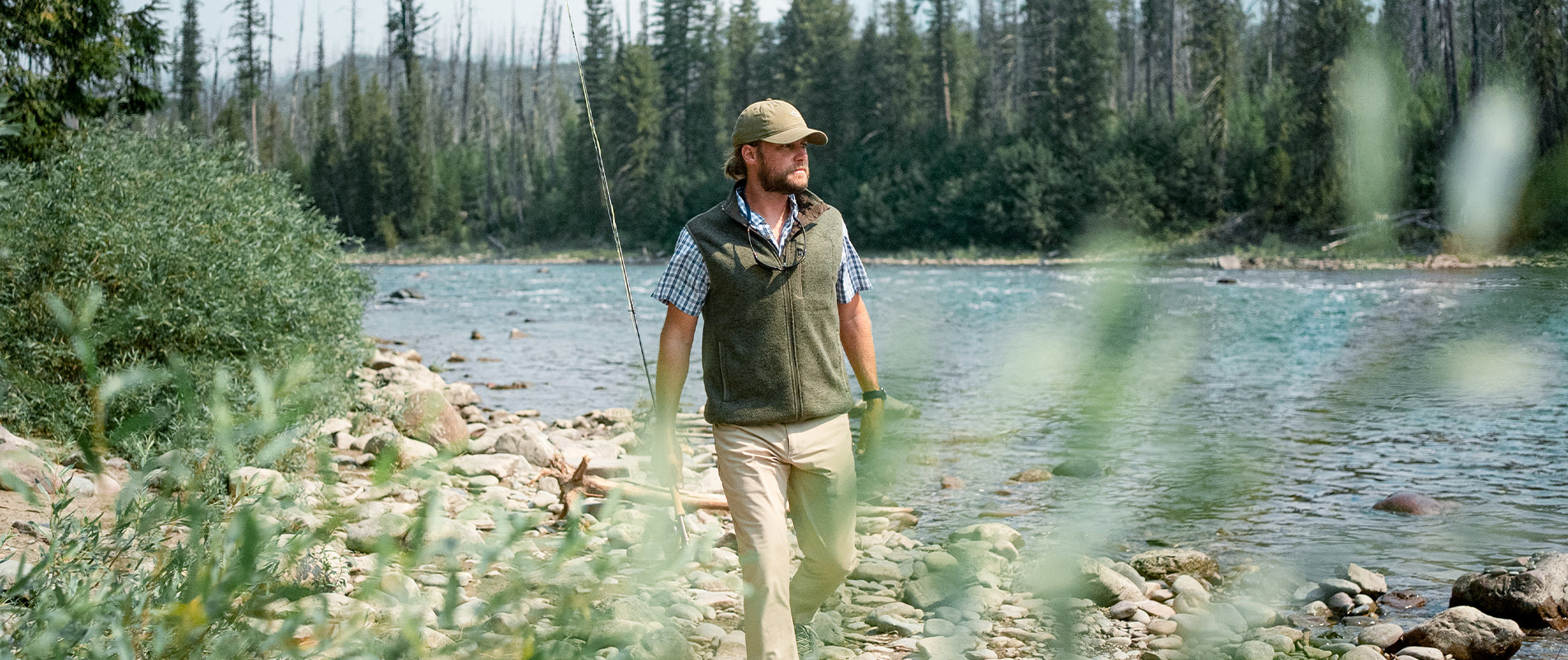 Goin' Out West: Our Complete Checklist
"Well I'm goin' out west where the wind blows tall..."
- sung by John Bell, sometimes.
Goin' Out West: Our Complete Checklist
LS Topper Crew - The elements out west are unpredictable and you will need a versatile shirt to not only keep you cool but also protected. Rated at UPF 50, the Topper fabric (Yes, the same stroke-saving fabric as our Topper polos!) is the most sun blocking article we offer. This top will act as your armor while you're up there fishing closer to God and wick the devilish moisture from your skin during an all-day float or just an afternoon wade.
Stream Pant - Although not grizzly bear proof, the REVTEX™ ripstop poly fabric has been meticulously designed and tested to withstand everything from slips in the creek to sagebrush attacks to whacking weeds. The added Spandex gives these leg shields an incredible range of motion for all the crazy positions you might get in while scaling a high cut bank or summiting a 13,000 foot peak or exploring the local bar.
Packable Rain Shell - When it rains out west it comes in suddenly and drenches the arid landscape. Stay prepared for any afternoon monsoon with this pocket-sized lightweight shell. Hypothermia can be a real threat as temperature fluctuations in the Rockies can swing 30 degrees with ease. Keeping yourself dry can be the key to keeping your line wet during and after any unforeseen weather.
Fenwick Aetos 9' 6wt. - This was the clear hotrod while demoing some sticks in the parking lot the other day. Good luck finding a better valued rod out there. The waters of the west are large, supporting big fish, therefore, we suggest a more beefy rod than what would normally be thrown around here. The 9' 6wt. Specs of the Aetos give you the strength to battle 20-plus inch fish with the versatility to throw both drys and streamers.
Cheeky Triple Play - This promotion by one of the hottest up-and-coming fly fishing brands allows you to essentially get three setups with an accompanying case for a steal. The diversity of environments out west places emphasis on the versatility of your gear. With one pack, be prepared with a broad river setup, a small water setup and a streamer rig.
Korkers Buckskin Wading Boot - Do your feet a favor and ditch the sandals for wading boots. The river beds of the Rockies are rocky and will mess your feet up pretty badly. Wading boots let you kick rocks all day long without limping back to the truck. The interchangeable Omnitrack™ sole of Korkers boot allows you to quickly switch to rubber soles when fishing waters whose regulations prohibit felt. For maximum comfort, invest in a pair of Neoprene booties to fill the gaps when wet wading.
Dry Bags - Available in a variety of sizes and styles, a dry bag will be a trusty friend out west that always keeps phones, wallet, keys, food, sleeping bag and a spare change of clothes dry. Don't get caught with soaked gear. Small bags are perfect companions on a float trip whereas larger bags can keep all your overpacked gear dry. We even have backpacks for those heading deep into the wilderness.
Water bottles - The lack of humidity is only a dream for those like myself looking to escape the heavy air of Charlotte and the Southeast. However, don't be fooled into dehydration as it can be a life threatening impediment to your adventure. Always pack a water bottle when goin' out west.
Honorable Mentions
Net - Fish out west are bigger than your hand so having a good net is the piece of gear that can increase your overall experience by helping land more fish. A Fishpond Nomad Mid-Length will come in mighty handy when you're wrangling a 25-inch Brown out of the rushing snowmelt.
Bug Spray - A couple of squirts can be the difference between constant swatting or an enjoyable evening hatch on the river. Everything is bigger out west and that includes the bugs. This repelling companion keeps your focus on the bugs coming off the water and not coming at your face.
Charles Hargrove / Shopkeeper / Tight Line Enthusiast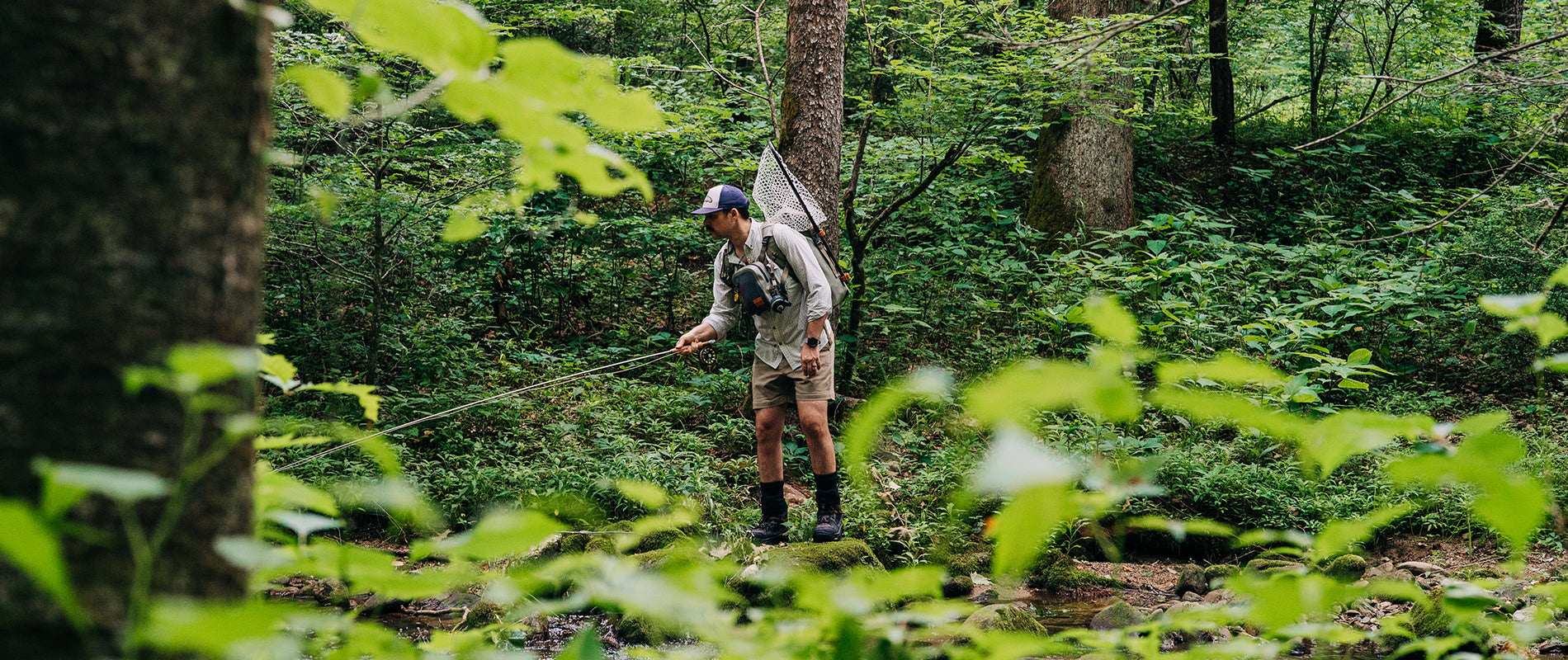 anglers of attack
Attacking small water is closer to hunting than it is fishing. Skittish creek trout must be stalked rather than waded up on. Due to the limited space, your sounds and movements as you approach can ...
Read more