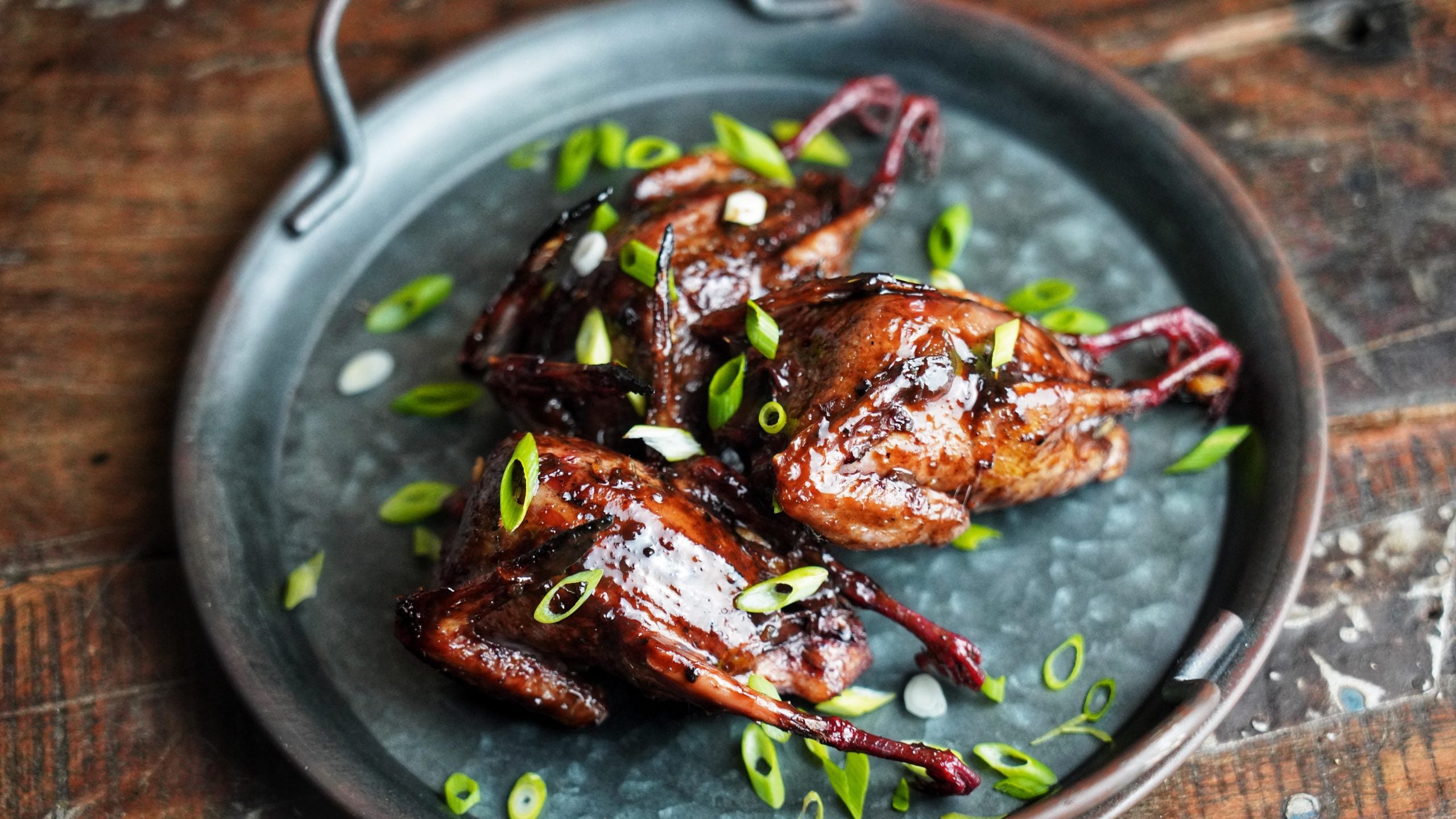 Top 3 Recipes for Dove Season
One of the most frequently asked questions we get around dove season is how we like to prepare and cook our haul after the hunt. Here are our top three recipes for dove season:
Spicy Rum Dove
Prep Time: 15 Minutes
Marinating Time: 6 to 12 hours
Cooking Time: 20 minutes
Ingredients
12-15 whole, plucked doves
1 cup Campesino Aged XIV Rum (or other dark rum)
Juice of 3 fresh limes
1/3 cup molasses
4 tbsp soy sauce
7 garlic cloves, minced
1-2 jalapeño peppers, minced (more to taste if desired)
3 tbsp fresh ginger, grated
1 tsp ground allspice
Fresh ground pepper
3 sliced scallions (for garnish)
Instructions
1. To prepare the marinade, add the rum, lime juice, molasses, soy sauce, garlic, jalapeños, ginger, allspice, and pepper in a small saucepan.
2. Warm the marinade on low/medium heat until the molasses melts completely, allowing all ingredients to warm and combine nicely.
3. Rinse the doves thoroughly under cold water, drain, and pat dry. Salt and pepper inside the bird's body cavity.
4. Place doves in a ziplock bag and pour in the marinade. Pressing all the air out of the bag, seal tightly, press lightly, turning the bag over to make sure all of the doves are completely coated in the marinade.
5. Refrigerate 6 to 12 hours, squeezing and turning the bag periodically to redcoat the doves with marinade.
6. Remove the doves from the bag, shaking excess marinade back into the bag.
7. Pour the marinade into a saucepan and bring to a boil over medium-high heat, and continue cooking the sauce, stirring often, until it reduces by about half. Remove from heat.
8. Heat your grill–either charcoal, pellet, or gas–to medium-high and give the grates a few minutes to get hot.
9. Place the doves on the grill, on their back, and grill over indirect heat for 10 to 12 minutes, brushing once with the reserved, thickened marinade.
10. Flip doves breast side down and brush again with marinade.
11. Continue to grill until the doves reach an internal temperature of 140-145 degrees, and the marinade is thick and caramelized.
12. Remove from the grill, top with scallions, and serve.

From Field Ethos
---
Sliced Dove Breasts on Cornbread Crostini with Green Tomato Marmalade
Ingredients
1 lb. green tomatoes, finely chopped
½ cup plus 2 tbsp. sugar
3 tbsp. freshly squeezed lemon juice
2 cups cornmeal
2 tsp. baking powder
½ cup all-purpose flour
¼ tsp. salt
2 cups buttermilk
2 eggs, lightly beaten
¼ cup oil
½ cup corn kernels
6 dove breasts
3 tbsp. butter
2 tbsp. fresh mint, very finely chopped
Salt and freshly ground pepper to taste
Preparation
Tomato marmalade: Combine tomatoes, ½ cup sugar, and lemon juice in a bowl, and refrigerate overnight. Transfer the mixture to a medium saucepan and bring to a boil. Reduce the heat to low, and simmer for about an hour, stirring frequently, until the mixture has thickened. Season with salt and pepper.
Cornbread crostini: Preheat oven to 400°F.
Line a baking sheet with aluminum foil and grease with nonstick cooking spray or oil. In a large mixing bowl, combine cornmeal, baking powder, flour, ¼ tsp. salt, and the remaining 2 tbsp. of sugar. Add buttermilk, eggs, and oil, and stir until the mixture is just moistened. Fold in corn kernels.
Pour batter onto prepared baking sheet and bake until golden brown (about 20 minutes). Allow cornbread to cool for about 5 minutes, loosen the edges with a knife, and invert onto a large cutting board. Cut into 4-inch squares, then cut each square in half diagonally to form triangles.
Dove breasts: Melt butter over medium-high heat in a sauté pan. Add the breasts, skin side down, and sear for 3 minutes. Flip the breasts, and continue to cook for a minute longer. Slice thinly.
To assemble: Top each cornbread triangle with a few slices of breast. Top the meat with about a tablespoon of marmalade, and garnish with mint.

From Garden & Gun
---
Jalapeno Poppers
Ingredients
12 jalapeños, stems removed, halved, and seeded
1½ oz. herbed goat cheese (about half of a 3-oz. log)
Granulated garlic
1 duck breast half, trimmed and sliced into 24 thin pieces
1 tsp. kosher salt
1 tsp. freshly ground black pepper
24 thin-sliced center-cut bacon strips (about 1 pound)
Cane or sorghum syrup
24 wooden picks (presoaked in water for 15 minutes)
Preparation
Heat a charcoal grill to medium (or a gas grill to medium-low). Let the coals burn down until ashy and glowing. While the grill comes to temperature, arrange the jalapeño halves on a board. Place 1 tsp. of the cheese inside each. Dust lightly with granulated garlic. Place strips of duck on top of the cheese-stuffed peppers, pressing lightly to seal in the cheese. Season with salt and pepper.
Lay the bacon flat on the board, one slice at a time. Use two-thirds (the wider end, if the slice is uneven) of each slice of bacon to roll a popper diagonally, encasing the popper from bottom to top. Twist the remaining third over the popper's top (further insurance on keeping the ingredients inside). Push a pick diagonally through this final strip to hold the bacon in place.
Place the poppers on the grill grate, pepper-side down. As the bacon crisps (in about 2 to 3 minutes), roll each popper on its side and cook for about 2 minutes per side, then finally turn the popper so the top cooks for about 2 minutes more. If the poppers are different sizes, place larger ones over the hottest spots on the grill, and smaller ones, which will cook faster, over cooler spots.
Remove the poppers to a plate and drizzle lightly with syrup. Serve immediately.

From Garden & Gun
Happy hunting!
- Cheers from the TSG fam!