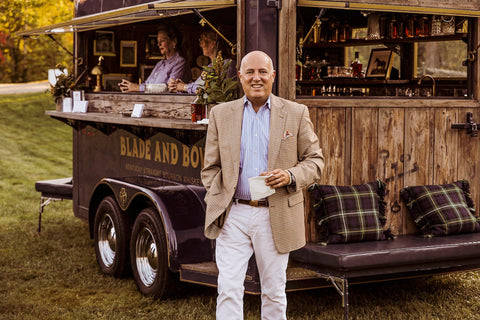 Brown Water Ramble: Jeff Parrott of Blade and Bow
Just in case you found yourself participating in Dry January and/or February, we held off on the Brown Water content, but with March in full swing and warmer weather on its way, we bring you another ode to all things whisk(e)y.
While we here at TSG are no strangers to imbibing, we strive to bring you gents the true masters of the craft to help us all distill a better understanding of good spirits and better stories that make brown water worth the ramble.
Jeff Parrott, Blade and Bow Brand Cultivator, and today he is bringing us all a serious education on the Stitzel-Weller heritage and distillation magic that makes Blade and Bow (B&B) a premier choice for bluegrass state bourbon.
Tell the gents about Blade & Bow Kentucky Straight Bourbon Whiskey:
Blade and Bow Bourbon launched in 2015 with two distinct variants: Blade and Bow Kentucky Straight Bourbon and Blade and Bow 22-Year-Old Kentucky Straight Bourbon. The brand makes its home at the legendary Stitzel-Weller Distillery in Louisville, Kentucky, known to many as the Cathedral of Bourbon.
What sets B&B apart as a distiller and brand?
Blade and Bow is unique because we use a Solera System aging process used to preserve some of the Stitzel-Weller distillery's oldest whiskey stocks, including some of the last bourbon produced before it closed in 1992. The solera liquid is mingled with other good aged bourbons and then aged and bottled at Stitzel-Weller Distillery.
What makes the Five Keys (Grains, Yeast, Fermentation, Distillation and Aging) and the Stitzel-Weller heritage so central to B&B?
The iconic Five Keys symbol is found throughout Stitzel-Weller Distillery – these five keys represent the five steps of crafting bourbon (grains, yeast, fermentation, distillation, and aging) but they are also an important symbol of hospitality at the distillery.
Back in the early days of Stitzel-Weller Distillery, whenever the keys were hung outside, you knew you were welcome to come in. That's what Blade and Bow represents – a dedication to both craftsmanship and the southern tradition of hospitality. The brand is even named after the parts of a skeleton key: the blade shaft and bow handle.
What is the deal with the Five Keys Club? And how do folks get in?
Each bottle of Blade and Bow bourbon comes with a different key numbered 1-5, some rarer than others. Anyone who collects all five keys can become a member of The Blade and Bow Five Keys Club, and share in a part of the history of Stitzel-Weller Distillery with an engraved julep cup that lives in the Five Key Club Room at the Distillery.
To join, head over to our website at www.bladeandbowwhiskey.com/five-keys-club.
At The Sporting Gent (TSG) we feel that we are much more than a men's apparel retailer, and that we are somewhat stewards of the sporting life and outdoor pursuits; how do you feel that B&B is connected with those ideas?
Through Stitzel-Weller Distillery, Blade and Bow has a profound connection to the rich history of bourbon in America, and the sporting life and whiskey have always gone hand in hand. We see outdoor pursuits as an essential part of the Blade and Bow lifestyle and have worked hard over the years to be part of the sporting life community. We want to be a part of that storied tradition with you, enjoying the outdoors with good bourbon and good company.
What is it about being outside, amongst friends (hopefully around a campfire), that goes so well with brown water?
Those experiences are rich and deep just like bourbon itself. Both bring distinct memories of close friends sharing good times. Something for me that vodka just can't do.
I know bourbon is a religion in Kentucky, but I'm becoming a bit of a scotch fan recently. How might you convert a scotch drinker to B&B?
Bourbon and scotch whiskey are, of course, very different, with bourbons being typically sweeter, and with scotch being spicier and sometimes smokier. The wonderful thing about Blade and Bow is that it contains some of the best of both worlds. It has the complexity of an older, aged whiskey even though it's a relatively young brand. Scotch drinkers may especially enjoy the finish of charred oak and warm winter spices.
Some of what we do with Brown Water Ramble is an introduction to whisk(e)y as a category, for the novice/curious drinker what makes B&B an approachable and enjoyable option?
Blade and Bow is a perfect choice for new whiskey drinkers, as it's balanced and complex. Not too sweet and not too spicy. Equally good neat or in cocktails. I'd recommend trying my go-to way to enjoy Blade and Bow: Blade and Bow with a little water and an orange slice. Water mellows the bourbon's intensity and allows you to fully experience the varied tasting notes.
I know you guys not only make fantastic bourbon, but you also have produced and curated some quality merchandise and bar items, we too love to find the best items to make and sell. Why has that been a focus at B&B?
Blade and Bow is all about enjoying the finer things in life. Many of us that work on the brand are sporting life/ lifestyle folks. Updating your home bar is an easy way to make small moments at home feel special. Whether you're hosting a perfectly executed cocktail hour or you're simply enjoying some bourbon at the end of a long week, we want you to do it with stylish, well-crafted barware.
Since reviving the Stitzel-Weller name, and in recent years gaining notoriety for your top-notch bourbon (I'm talking about that closing price for the 22-year at auction); what is next for B&B that you can tell the gents about?
We're looking forward to A Stitzel-Weller Affair on May 6, a special evening event featuring signature bourbon cocktails, live music, and an alfresco dinner at the Stitzel-Weller Distillery. We hope you'll join us.
We'll also be on the road with our Horse Trailer Bar at events across the Southeast and at Stitzel Weller welcoming visitors at the new Garden & Gun Club we opened this past year. And in the fall, we're excited about the annual re-release of Blade and Bow's 22 Year Old Kentucky Straight Bourbon.
We so appreciate your time, but before you go, give us your best after-the-hunt camp cocktail?
How about Blade and Bow's New Fashioned? We add elderflower liqueur for a fresh take on the classic.
New Fashioned Recipe:
1.25 oz of Blade and Bow
.75 oz of elderflower liqueur
Top with a splash of soda
Garnish with an orange slice and cocktail cherry
As with a good drink amongst friends, Blade and Bow brings a great blend of the old days to new ways. If you find yourself in need of upgrades to your bar selection, be sure to check out our full lineup HERE.
Start practicing your New Fashioned and we'll catch up with y'all in our next addition of the Brown Water Ramble.
Michael Perry | Shopkeeper, Fly & Field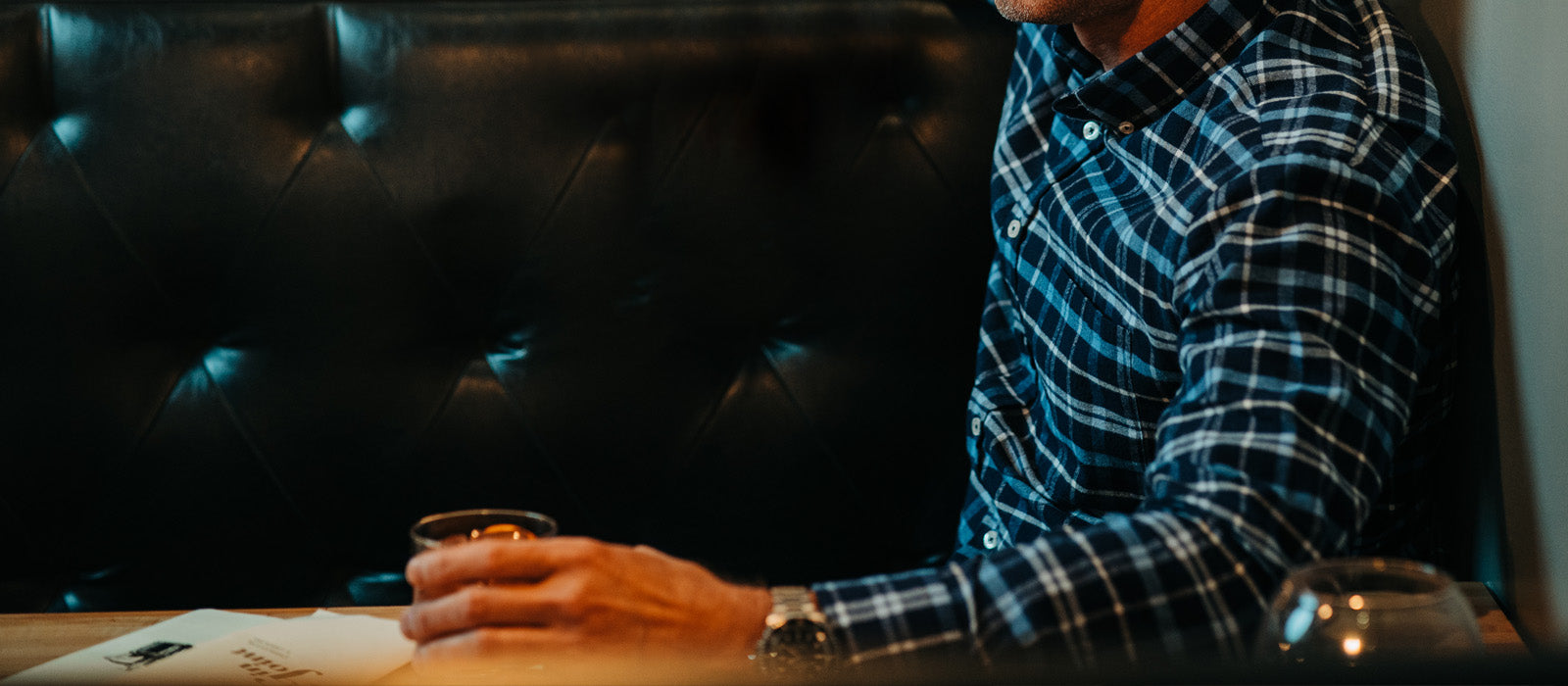 Dispatch
The chubby cherub of love is not the only one knocking arrows this February, aim for our quick shot picks below for the best variety of items to gift your Valentine this year: TSG Performance Covey...
Read more