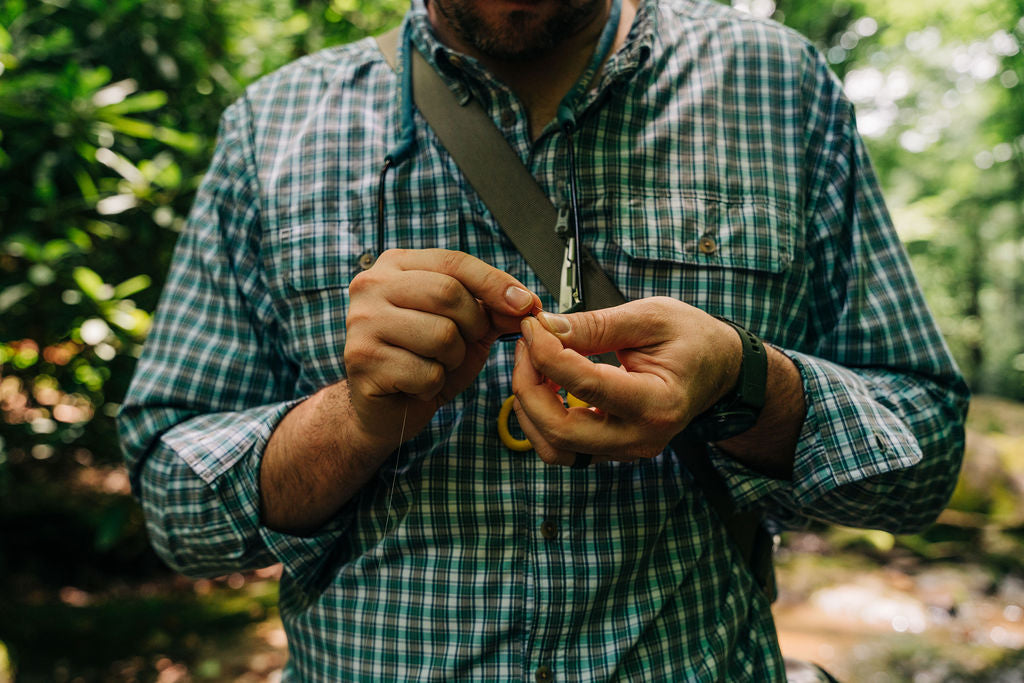 Fish the Blue Ridge Mountains: Prep and Ready for Spring Fishing 2022
Despite one (hopefully last) blast of winter weather in the High Country last weekend, signs of spring are all but here. Warmer temperatures mean that birds, bugs, bears and fly anglers alike will be climbing out of their winter haunts to enjoy the longer days all along the Southern Applachians.
For the fly fishing fanatic, Spring is king! Bigger hatches and more topwater trout takes are a better sight than blooming wildflowers. As you prepare to make the ride up the parkway take stock of your gear, do a little prep work and make sure you come see us at The Sporting Gent HQ for all of our new arrivals and product restocks on fly goods.
Fly anglers rate up there with all the worst offenders of gear junkies and gadget hoarders, but it is always good to do a little spring cleaning, i.e. inspection and maintenance:
Rods: Be sure to check your rods for any broken or loose guides and ensure the reel seat threads are clear from debris. Nothing ruins a fishing trip quite like opening a rod tube at the stream to find yourself at the battleground without a sword. If you are looking for a new blue line rod, stop by the shop and cast the Butterstick II by Redington, the fiberglass action is just like real butter — it makes everything better.
Reels: If your reels have been stored for the winter, be sure to take them out for a pre-flight inspection. Even the best fly lines could benefit from a good stretching, so unspool your line till you hit your backing, and while you are at it check your backing connection just in case you finally hook the big one this year. For a full demo on stretching your line, check out this video from our friends at Rio HERE.
Line: If you have never cleaned your fly line, start yesterday. A clean fly line, especially a floating line, best performs when free of all the dirt it picks up from the river. It can be as simple as soapy warm water, but it is also a good idea to recondition your line with a product like the Line Up Kit from Loon Outdoors.
Waders/Boots: Check your waders and wading boots, hopefully you are spraying them down each time you fish, but if not, watch out for mold! If you are in need of an upgrade we have a great selection of boots from Korkers and Echota and waders from Redington, including the deluxe Escape Zip that makes those trips to the tree urinal a lot easier to maneuver. When it is time to ditch the waders, look no further than our TSG Stream Pant.
Leader and Tippet: All tippet material has a max shelf life of roughly 2.5 years, but increased exposure to sun and heat can shorten that greatly. Tippet is your first connection to that PB Brown you are going to land this year so make sure you are well stocked with tippet material and/or fresh tapered leaders. At TSG, we have great options from Cortland and Cheeky.
Fly Boxes: The great weakness of many fly fishers, fly boxes, and NO YOU CANNOT have too many (just don't tell our wives about this next one). There are a lot of great options out there, but the new Tacky Pescador-Magpad and Original-RiverMag boxes by Fishpond are perfect for spending more time on the water and less time seating all your flies in a new box.
Everything else: Last but not least, make sure you have what you need to maximize your enjoyment on the stream. If you are looking for a new way to haul your gear we received a huge selection of Fishpond packs and bags, but they won't last long, especially the Thunderhead Submersible series. We are also well stocked on nets, floatant, and all the rest. If you are in the market for some jewelry we have a new selection of Abel Nippers that are sure to be the prize of any fly angler.
However and whenever, make sure you get out there and wet a line. Be sure to check with NC Wildlife on stream designations, and stay out of Hatchery Supported sections until April 2. Whether this will be your first Spring fishing the Blue Ridge or your hundredth, consider us here at The Sporting Gent to help make the most of your time on the fly.
All the great gear mentioned above and so much more is included in our Fish the Ridge Collection HERE.
Michael Perry | Shopkeeper, Fly & Field