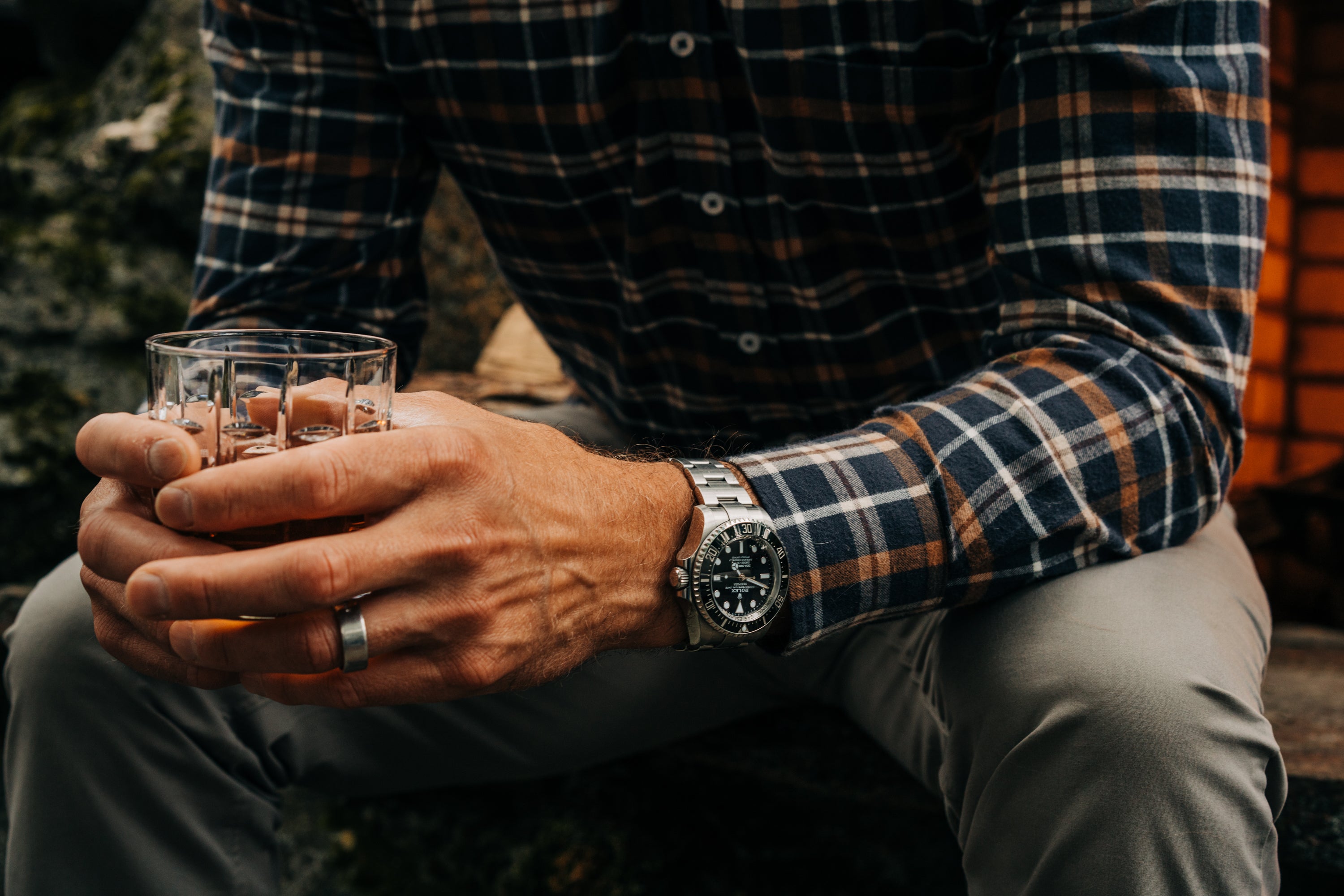 Snow-mageddon 2022
The frenzied murmur of the frozen white stuff has descended upon us here in the area and whether you are a distraught southerner in search of bread and milk or an annoyed/amused northerner, there's no doubt Snow-mageddon hysteria will prevent you from having a normal week.
Despite the uncertainty, we believe a real gent is always prepared, so here's a few items you should consider picking up from TSG HQ that will have you fit for a Snow-mageddon or another let down of frozen rain and sleet.
Heavyweight Flannel
Snow-megeddon means it's time to bring out the big guns, and our Heavyweight Flannel, crafted in Portugal, will keep you warm enough to take that lumberjack-chopping-wood–in-the snow picture, but you'll have to buy your axe elsewhere.
Danner Jag Quilt Boots
If you ever stop by TSG HQ you quickly learn we are big fans of Danner, not only are they comfy and well made, they hold up well in all conditions. The quilted version gives you the added warmth of Primaloft® so you can fully enjoy the snow day with your kids/dog, and the standard performance of Danner Dry will keep cold rain and slush on the outside of your boot where it belongs.
ReelDown Vest
It's no secret, the ReelDown vest is the softest, warmest, most packable vest we make so don't be left out in the cold without your favorite packable vest that comes in everything from Oxbow camo to our new favorite Gunmetal/Slate.
Glencairn Whiskey & Cigar Coaster
In the event we actually get snowed or iced in, a place to rest your brown water and a stogie will be paramount in keeping you toasted… eh, we mean toasty and refreshed as you're telling your best tales around the fire.
Stanley Shot Glass + Flask Set
If you're getting snowed in with friends, up your clout with the other gents with your full shot glass and flask set that will make you the legendary master of the Snow-mageddon hot toddy for years to come. The stainless steel shot glasses ensure an errant swig will not result in a broken glass and the 8 oz. flask should cover you for a few rounds.
TSG Camp Comfort Pant
If your yankee boss is not up for giving you a snow day, make your remote work session as chill as possible with our insanely soft Camp Comfort Pants. While endless virtual meetings drone on, take comfort in knowing you are "dressed for work" and ready to relax with no commute home.
TSG Packable Rain ShellMore often than not, the threat of snow in our region usually results in little more than frigid rain and frozen slush, turning your snow day hopes into something less than perfect. With our packable rain shell always at the ready you can stay high and dry thanks to our breathable, stretchable, RevTEX™ fabric and its color matching companion sleeve that allows you to pack-it away for each storage.
Undertones: Gifts of a Southern Tide
For the curl-up-with-a-good-book type, we highly recommend a new offering from local author and photographer duo, Douglass Cutting and Nan Young Carey. The starkly expressive coastal scenery and meandering prose will have you dreaming of warmer days filled with salt, sand and sunshine.
Wildsam Field Guides
As the cabin fever sets in you may be wishing you were elsewhere, the Wildsam Field Guide collection includes six great titles to plan out your next adventure. From the Great Smoky Mountains out our backdoor to the California wine regions of Napa and Sonoma, a quick read through our guides will be ready to beat the crowd, but for now it's time to go shovel the driveway.